Are Dual Sportsbooks & Casino Gambling Apps Better for Ontarians?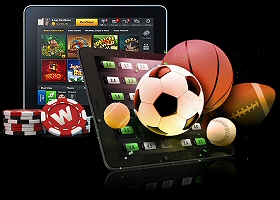 One month ago today, on April 4, 2022, Ontario's long-awaited plan to open its online gambling market to commercial competition came to fruition. On that day, a number of online sportsbook operations and internet casinos went live in the province. To date, 13 sportsbooks and 14 online casinos are up and running.
Now, with just enough experience under their belts to evaluate, we'll take a moment to review not the individual sites themselves, but two distinctive options afforded to Ontarians; specifically, the option to wager with standalone gambling apps, versus dual sportsbook+casino websites.
Sportsbooks or Casino Gambling Apps – You Decide
On the surface, its easy to assume a combination sports+casino package is the better choice. After all, aren't more options better than fewer? In some cases, sure, but when it comes to iGaming, there are advantages to the singular route. That's what we'll be talking about today. What are those advantages, and do they apply to you?
We'll start off with the most obvious question…
Are You a Dual Betting Enthusiast?
If you enjoy both sports betting and casino gambling, a dual app may be the right choice for you. Having access toa one-stop-shop for all your wagering needs is certainly convenient. This is especially true if you enjoy the most popular sports and casino games on the market.
On the other hand, if you don't plan on doing both activities, you shouldn't seek out a combination app. There's one simple reason for this.
Standalone Betting Ops Cater to Niche Markets
If you're a hard-core casino enthusiast with no interest in sports, it would do you no good to gamble with a casino+sportsbook operator. In fact, it would only degrade the overall experience. A standalone casino is going to cater directly to casino players. That translates to more games, more promotions, and more opportunities to capitalize on preferential gaming.
The same is true is standalone sportsbooks. If you're a big sports fan, but don't care much for casino games, don't dual apps aren't for you. The inclusion of a virtual casino floor will only detract from the diversity of sports betting contests, lines and promotional offers.
Let's talk a bit more about the limitations revolving around dual betting apps.
Availability of Bonuses You Can Actually Use
This is one of the most prominent areas of contention for veteran online gamblers. A standalone casino will have bonuses, promotions and loyalty rewards geared strictly towards casino players. The same goes for sportsbooks. A dual app, on the other hand, may cater more heavily towards one type of player. Usually, it's the sports betting side that gets the most offers. Thus, a casino player on a dual app is likely to lose value.
Limited Game Variety – When More is Less
We're all so used to the term 'less is more', but in the case of dual apps, it's the other way around – 'more is less'. Overall, a dual app is going to offer a wider variety of wagering options. However, you can expect the list of sports to be shorter, and the casino games menu to be much smaller.
As I said above, if you really enjoy both types of gambling, and find yourself attracted to the most popular types of bets and games, that won't be an issue. For you, combination sports + casino gambling apps are probably the best choice. But if that description doesn't match your preferences, singular sites and apps will offer far more advantages.
Is it Worth Downloading Both?
Absolutely! Even if you're a fan of both sports and casino gambling, it may be well worth your while to choose separate apps for each activity. In doing so, you eliminate the restrictive nature of dual apps, while ensuring greater choice in iGaming.
Maybe you really like the sportsbook offerings of 888 Sports, but you don't find the games on 888 Casino to be very impressive. In the same token, you may find BetRivers casino menu to be far more appealing, yet its sports lines to be disappointing. Choosing 888 Sport and BetRivers casinos would give you the perfect meld of gaming opportunities.
What About Internationally Licensed Gambling Sites?
Ontario licenced gambling operators aren't the only ones lawfully available in Canada. International gaming sites have always been legal in Ontario, and still are to this day. If you've been loyally wagering with Royal Vegas Casino since it launched in 2000, there's no reason you have to quit now. It's up to you whether you want to convert to home-regulated gaming, or stick with tried-and-true operators afar.
One thing I can assure you is that you'll find better variety offshore. It's a simple matter of logistics. There are hundreds of Canadian-facing online gambling sites operator with an international license. Barely over a dozen operate from right here in Ontario. It goes without question that you'll find websites offering more valuable promotions, across a wider selection of games, with higher payout percentages overall.
Should Higher Payout Percentages Be a Factor?
Indubitably, yes! Whether you're a sports fan or casino enthusiast, a seasoned high-roller or casual low-baller, there's one thing every gambler has in common, and that's a genuine desire to win money. The best way to increase your probability of winning is to play games and/or bet lines with the greatest odds of winning.
For sports bettors, the lines are set by professional oddsmakers. Different betting sites use different odds services, so the lines won't be the same everywhere. Your best option is to find two very different sportsbooks – perhaps one based here in Ontario, like theScore Bet, and another based overseas. So long as they use different oddsmakers, you can compare and choose the best rate.
Casino RTPs Barely Meet the Average in Canada
For casino gamers, it's mostly about the software that powers the website, but also the government that authorizes it. Here in Ontario, there are limits on the minimum/maximum return to player (RTP). For example, Ontario's own PlayOLG iGaming portal has 255 online slots game. Of them, only 45 have a static RTP at or above the 96% global average for online slots. Only one of those ranks as being above-average, and that's the Golden Rooster Slot, with a 97.22% RTP.
Conversely, offshore casinos have many more games with an at- or above-average RTP. They often employ a much greater variety of software, delivering hundreds, if not thousands of slots titles, with RTPs as high as 98% and 99%. It's not just slot machines, either. Microgaming's All Aces Poker (99.92% RTP), Switch Studios' Perfect Strategy Blackjack (99.91% RTP), Red Rake's Royal Court (99.78% RTP); all of these and more are found only at today's most reputable, internationally licenced online casinos. For serious gamers, these casino gambling apps take the cake.